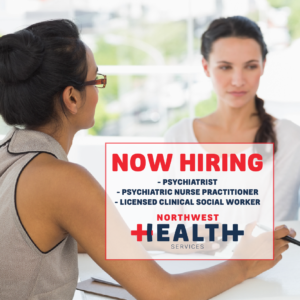 MENTAL HEALTH SERVICES EXPANDING IN NORTHWEST 
Behavioral Health is one of the leading battles for Northwest Missouri including St. Joseph and the surrounding area. Northwest Health Services is committed to serving our community by providing behavioral health services across the state. This is why we're looking for more people to join our team!
WHAT IS NORTHWEST HEALTH SERVICES?
Northwest Health Services is an FQHC, non-profit community health center dedicated to serving all patients regardless of their ability to pay. We are a patient centered health home that offers medical, dental, behavioral health and 340b prescriptions to our communities. We have 15 clinics in our service area and see 35,000 patients/year making us one of the largest FQHC's in Missouri.
CAREER OPPORTUNITIES
With the current opening of our brand new Behavioral Health Clinic, Northwest Health is seeking the following career positions to join our team:
Psychiatrist – "Northwest Health Services is looking for a Psychiatrist with a mission to serve the underserved population of Northwest Missouri regardless of their ability to pay. We are a community health center with integrity in health care. Loan repayment options available."
Psychiatric Nurse Practitioner– "Northwest Health Services is looking for a Psychiatric Nurse Practitioner. Work for a fast company that is mission focused and is making a difference in how healthcare is being delivered. If you're a passionate, self-starting, skilled Psychiatric Nurse Practitioner who thrives in a fast-paced, ever-changing environment, this job is for you."
Licensed Clinical Social Worker– "Northwest Health Services is looking for a Licensed Clinical Social Worker to become a part of our multidisciplinary team. The staff is very friendly and provides a supportive working environment."
We offer competitive pay & benefits and are located just 45 minutes from Kansas City, MO with great staff! If you or someone you know is interested in applying for one of these positions, please visit us online at www.nwhealth-services.org/careers OR give us a call at (816) 901-1040.