May

15, 2017
Vet2Vet Event – THIS SATURDAY!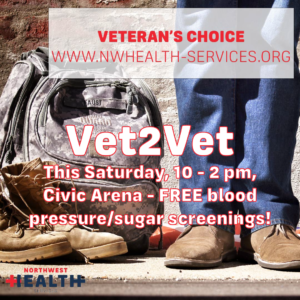 Vet2Vet Event – Saturday, May 20th 10 am – 2 pm, Civic Arena
The vet2vet event will be held THIS Saturday at the Civic Arena in St. Joseph, Missouri from 10 am – 2 pm. Northwest Health Services will be providing FREE blood sugar and blood pressure screenings for all who attend. Please, if you're a veteran or know someone who is, inform them of this event and be sure to stop by and get your screenings completed!