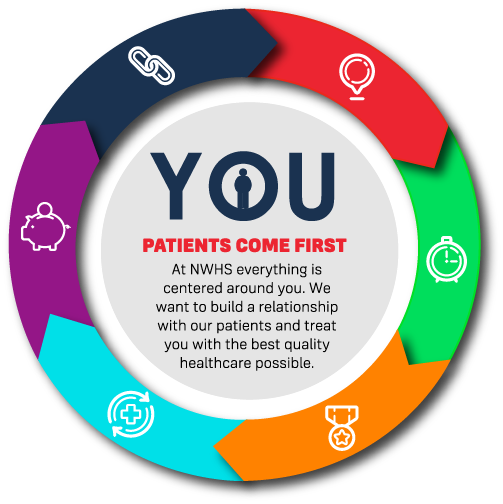 Affordable Care For All
NHS will never turn a patient away because they can't afford healthcare. For that reason, we will help you find a program to assist you financially. Also, we offer a discount program based on your income.
Every Stage Of Life
Entering our facilities for care means a lifetime of building healthy relationships with our team. In the same way, we want to know you and work closely with you to diagnose and keep you healthy. We care for people of all ages.
Quality
We have professionally trained staff available to help you. In addition, NHS recently received a quality award for our quality of service to the community. 
Accessible
We do anything we can to make sure you get the right care.  Healthcare should be easy to access, in fact, we offer an option to request your appointment online, and at multiple locations throughout Northwest Missouri.  
Community Partners
NHS works with many organizations throughout your community to connect you to the services you need.  For example, we partner with local schools, non-profits, and social service agents to enhance you and your children's health.
Mission:
To serve as a catalyst for health & empowerment in Northwest Missouri through education, medicine & advocacy.  We will never turn a patient away because they can't afford healthcare.
Vision:
At NHS we strive to create a Northwest Missouri that grows stronger with every patient we encounter. 
"We believe in doing the right thing with the belief that all people should have access to high-quality healthcare."

Corporate Social Responsibility
Northwest Health Services was founded with a generous spirit and an ambitious goal. To provide high-quality primary medical, dental, and behavioral healthcare to all individuals who seek it, no matter what. At the same time, we care about people, which is why we are located in the Metropolitan and Rural Northwest Missouri communities. 
Employee Impact
Our employees serve their communities through the work they do in our clinics. Even more, they serve through volunteerism, caring for the underserved through homeless outreach, flood relief efforts,  and partnering with local food banks. Northwest Health highlights the passion for our communities through our programs and services like:
The Downtown Health Center, serving a primarily homeless population
Medication-Assisted Treatment (M.A.T.) Program for those suffering from Opioid Use Disorder.
A Flood Relief response effort focused on supporting those impacted by the floods in 2019
A Sliding Fee Discount Program improving access to care for Americans regardless of their insurance status or ability to pay.
We hope you will find your experience at Northwest Health Services as pleasant and comfortable as possible. Thank you for selecting Northwest Health Services as your healthcare provider.


Matt Younger
Chief Executive Officer


Judy Hood
Director of Quality and Compliance


Tina Taylor
Director of Finance


Dr. Steven Brushwood
Chief Medical Officer


Dr. Miranda Phillips
Director of Pharmacy


Terry Petersen
Chief Operations Officer


Al Krebs
Chief Dental Officer