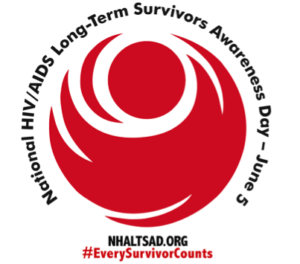 June 5th is HIV Long-Term Survivors Awareness Day. This year's theme is: "Mobilize to Thrive: Prioritizing Quality of Life." The selection of June 5th for this annual observance coincides with the anniversary of the first official reporting of what became known as the AIDS epidemic on June 5, 1981. It was on that date that the CDC first reported five cases of a mysterious disease affecting young gay men. June 5, 1981 is considered the start of the AIDS pandemic or epidemic.
To clarify, "Long-Term Survivors" doesn't necessarily refer to an elderly population. People living with HIV who contracted the virus at birth, may only be in their 30's or 40's—far from elderly. The HIV Long-Term Survivors (estimated to be approximately 300,000 in the US) are those individuals who were diagnosed with HIV prior to 1996. In 1996, the Highly Active Antiretroviral Therapy (HAART) was approved. That approval and the subsequent improvement in health care and medication regimens has led to a much brighter outlook for People Living with HIV/AIDS (PLWHA).
Today's HIV medications (when taken as directed) are highly (96% to 99%) effective. This is such an amazing improvement! One pill, once per day to achieve viral load suppression or "undetectable" level. This is the goal to managing HIV transmission—Undetectable = Untransmittable or U=U and Ending the HIV Epidemic (EHE).
I read a quote recently, "There's no reason to look back when you have so much to look forward to." This is so true with respect to HIV care/treatment as well as HIV prevention. So much progress has taken place in the last 41 years, with continuing research and new treatments on the horizon. Bi-Monthly injectable medications both for HIV treatment as well as HIV prevention are available. There are clinical trials for additional options such as one pill, once per month, implants or injectable administered every 6 months! So, stay tuned!
Hopefully, there will be a cure for HIV one day. In the meantime, let's focus on the theme for this year's HIV Long-Term Survivors Awareness Day: "Mobilize to Thrive: Prioritizing Quality of Life." With proper medical care and adherence to HIV medications, individuals living with HIV can enjoy a long, healthy life.
Thanks for reading this blog.  If you are interested in additional information regarding HIV treatment or HIV prevention, please contact Janet Miller @ 816-901-1034.