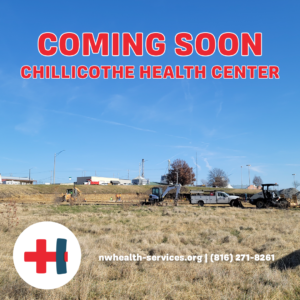 SAINT JOSEPH, MISSOURI | Northwest Health Services (NHS) is excited to announce an expansion of its services to the Chillicothe community.
NHS began providing health care in Northwest Missouri in 1983, opening its first clinics in Mound City. Since then, the
organization has expanded across 15 counties with 20 clinics, including medical, dental, behavioral health and pharmacy services. Until recently, it has provided access to Medicaid dental services in Chillicothe by way of a contract with the McCoy Samples Mattingly Dental Clinic. That contract is ending in December and Northwest Health Services has begun building its own permanent clinic in a developing retail area in Chillicothe to offer comprehensive services there.
"I've been a patient of Northwest's medical and dental clinics, myself," said Matt Younger, Chief Executive Officer. "In fact, when I was a college student at North Central Missouri College, I traveled back home to Holt County to see my doctor and dentist when I needed them. It's very satisfying to me to be able to open this clinic. I spent time here in Chillicothe in my 20s and it's good to be doing something to help a community that helped me get started in my health care career many years ago."
The new location, named the "Northwest Health Chillicothe" will serve the entire community and be open to private-pay patients, those with all types of insurance including: commercial, Medicare, Medicaid/MoHealthNet, as well as those who are uninsured through an income-based sliding fee scale. The clinic will be located just off the highway 36 exit, next to Lowes. Construction began in November and is projected to be completed in late spring/early summer of 2022. More details will be released later as they're made available.
"We are excited to be expanding our pharmacy services to the Chillicothe community," said Miranda Phillips, Director of Pharmacy for Northwest Health. "We aim to provide for the area by offering convenient exceptional service, affordable medications, and the 340B drug discount program."
Northwest Health Services is a Community Health Center with clinics spread over 15 counties in Northwest Missouri. Northwest Health Services is improving lives and strengthening communities through access to local, high-quality, affordable health care.
For more information about Northwest Health Services, visit www.nwhealth-services.org
For Media & Press: Corey Myers, Lead of Creative Marketing – coreymyers@nwhealth-services.org | (816) 271-8214