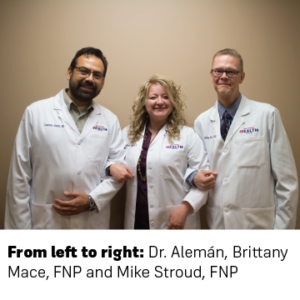 Take Some Time Today for Mike Stroud, FNP

We'd like to take a moment to reach out to friends, patients, peers and our community to take some time for one of Northwest Health's and St. Joseph's most beloved caregivers. We'd appreciate your thoughts and prayers for Mike as he battles Esophageal cancer.
For the past several years, Mike Stroud, FNP, a provider at our South Side Health Center in St. Joseph, has battled this cancer. Many of us that surround Mike everyday still can't believe the diagnosis. Mostly because of Mike's passion and willingness to simply do.
Mike is a type of caregiver that walks every patient out. Listens intently to patient concerns and questions and always puts the patient first. If you have worked in healthcare, you see nursing staff and providers work quickly and in sometimes stressful environments. Mike's character and drive is unrivaled. Mike never turns a patient away. Regardless of scheduling, Mike ensures his patients can be seen. And Mike has continued these traits all while battling cancer.
We believe in supporting every single one of our employees and patients. Someone close to Mike wanted us to share a saying. "Prayer Works" Thank you to anyone who will take the time to think of Mike today.
– Your Friends at Northwest Health Services