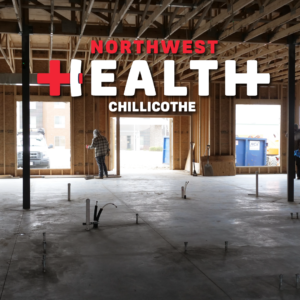 Northwest Health Services is pleased to announce that the new facility in Chillicothe, Missouri, will officially be named "Northwest Health Chillicothe."
The new facility will feature 4 clinic services all under one roof:
Chillicothe Medical Clinic
Chillicothe Dental Clinic
Chillicothe Behavioral Health
Chillicothe Pharmacy Services
Construction has been going very well, and the new building is looking at a May or June completion. As soon as construction is completed and staffing is arranged, we will open the doors to the community for care. Currently, the organization is hiring and recruiting for the dental and behavioral health services. Pharmacy recruitment will begin in March and Medical is something being worked on right now.
The new facility was announced back in December of 2021 after a contract with the McCoy Samples Dental Clinic in Chillicothe/Hamilton came to an end. This contract allowed Northwest patients and community members who were on Medicaid, to get dental care through the McCoy clinics. Northwest Health was able to allow McCoy to bill for Medicaid dental through the Northwest billing department, which then allowed for a bigger kick back from the state for Medicaid care for both parties. Now that this contract has ended, dental care for Medicaid patients will be harder to obtain in the area without a community health center like Northwest Health Services. So, we are very pleased to bring this brand-new facility to the community and continue providing not only dental, but now medical, behavioral health and pharmacy care at affordable costs to the community. More details will be made available as soon as we have them.
We are Northwest Health Services, improving lives together.
For Media & Press: Corey Myers, Lead of Creative Marketing
| (816) 271-8214 | coreymyers@nwhealth-services.org