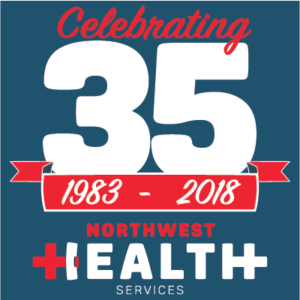 Northwest Health Services Celebrates 35 Years
Northwest Health Services recently celebrated 35 years as a health care provider in Northwest Missouri. The multi-county health provider brought all locations, consisting of 250 employees, together at MWSU to commemorate the event.
"Northwest Health Services was founded in Mound City, MO by a group of citizens who wanted to assure their community has continuous and quality healthcare for the foreseeable future," said Steve Loucks, Board Member of Northwest Health Services. "David Duncan was the driving force behind it and would be considered the Founding Father. I am proud to have been a part of this organization and what it has become. I hope the people of Northwest Missouri will continue to support Northwest Health Services and enjoy the benefits it provides," Loucks said.
Collectively, Northwest Health Services and its clinics serve a combined population of approximately 275,000 people in 16 counties, who otherwise may not have access to affordable healthcare. "Access to affordable healthcare affects everyone, from the farmer who cut his hand while working on a combine, the office worker who cannot afford their $3,500 health plan deductible, the returning combat Veteran who is waiting for his benefits to kick in, or a retiree who cannot afford their medications," said Rodney Hummer, Director of Development & Community Engagement. "As the Community Health Center, our mission is to create solutions to address these issues by providing affordable and readily accessible services in Northwest Missouri. Employees of Northwest Health love this focus and it shows by our growth and achieving 35 years of service," Hummer said.
For more information about Northwest Health Services visit www.nwhealthservices.org or call (816) 271-8261.