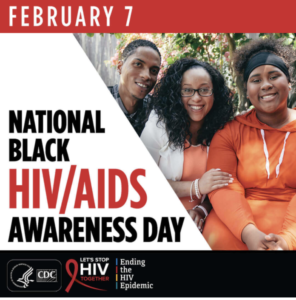 National Black HIV/AIDS Awareness Day is Monday, February 7.  This is a day set aside annually to raise awareness of the disproportionate impact of HIV on African Americans.  This awareness day is also intended to stress the importance of increasing access to HIV education, testing, treatment, and prevention services.
On this awareness day, and throughout the entire year, it is important to acknowledge and address the social and structural determinants of health that drive the HIV-related health disparities experienced by African American communities.
These health disparities are reflected in the rates of HIV in the U.S. population.  In 2019, 40% of all people living with HIV were African American, despite comprising only 12% of the total U.S. population.  The disparity is clear in new cases as well.  While no statistics are yet available for 2021, in 2020, 43% of all new HIV diagnoses in the U.S. were among African American individuals.  This issue is even more acute in the South, where African Americans accounted for over half of all new HIV diagnoses in 2020, despite accounting for only 19% of the Southern population.  Another noteworthy statistic is the number of new HIV diagnoses among young African American males.  Of the newly diagnosed HIV cases among African American males, 26% were between the ages of 13 to 24 and 37% new HIV diagnoses in the age group of 25-34.  Obviously, improvements must be made in educating our young, African American men about the risks of HIV, Prevention of HIV and the importance of HIV testing.
In the United States approximately 1.1 Million persons (of all races, genders) are living with HIV.  However, approximately 1 in 7 of these individuals does not know his/her HIV status.  Thus the importance of testing.  At Northwest Health Services, all clinics now offer rapid testing.  Results can be available in approximately 15 minutes.  For more information about HIV testing or HIV Prevention services, please feel free to contact Janet Miller, Prevention Specialist, Northwest Health Services @ 816-901-1034.