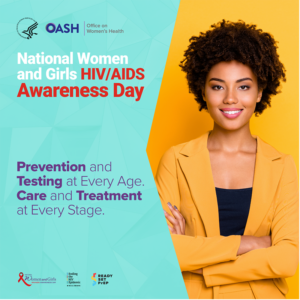 Thursday, March 10, 2022 marks the 17th annual observance of National Women and Girls HIV/AIDS Awareness Day (NWGHAAD).  Every year on March 10th and throughout the entire month of March—local, state, federal and national organizations come together to focus on this topic.  The purpose of this awareness day is to shed light on the impact of HIV and AIDS on women and girls.  This observance is to also show support to those not only at risk of acquiring HIV, but also of those living with HIV.
This year's theme: Prevention and Testing at Every Age. Care and Treatment at Every Stage focuses on prevention of new HIV infections, increased testing, and better care for individuals living with HIV.
With everything going on in our world today, one might wonder why this awareness day is important?  Well, despite significant progress in HIV prevention, diagnoses, and treatment,  HIV and AIDS are still widespread public health issues and women remain vulnerable.  While we may not want to think about this Virus, there are certain facts women and girls should not ignore.  The most relevant fact is this: any woman (or girl) who has sex can get HIV.  This is true regardless of race, ethnicity, age or sexual orientation.  The reality is the average age for teens engaging in sex (often unprotected sex) is 15.6 years of age.  Therefore, it is of the utmost important to have those sensitive conversations about sexual health with our teenaged girls.  This conversation should include safer sex practices, protection, HIV prevention and HIV testing.
What can you do on March 10 and throughout the month of March?
Know the risk factors for HIV
Differentiate HIV facts from myths
Get tested—the only way to know your status is to be tested.
Locate a testing site by going to https://locator.hiv.gov/ and type in your zip code
Rapid HIV screening is simple, requiring only a drop of blood and about a 15 minute wait for results.  Northwest Health Services offers free rapid HIV screening at all locations.  If you have questions regarding HIV, HIV prevention, HIV testing, or your organization would be interested in a presentation on these topics, please contact our HIV Prevention Specialist, Janet Miller @ 816-901-1034.