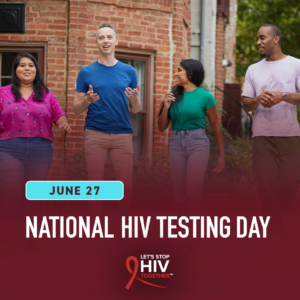 On June 27th each year, National HIV Testing Day (NHTD), is observed. The purpose of this is to emphasize and encourage HIV testing. As you may know, HIV testing is encouraged for all individuals between the ages of 15 and 64 at least once in their lifetime. In certain cases, HIV testing is encouraged even more frequently. Testing is very important as 1 in 7 people living with HIV in the USA are not aware of their HIV status. The only way to know one's HIV status is to be tested. Due to COVID concerns and restrictions, large HIV testing events were "on hold" the last two years. However, this year, Northwest Health Services is encouraging community members to participate in FREE HIV screenings.
Please join Northwest Health Services as we host an HIV screening event on Monday, June 27th at our Downtown Health Center (503 South 6th Street). This event is FREE! Staff will be available to answer questions regarding HIV screening, HIV prevention, HIV care and services as well as to perform the free HIV screenings. The event will be from 11 a.m. to 1 p.m.  Those who choose to be screened, will be entered into a drawing for a special prize! A light lunch will be available as well.
The theme for 2022's National HIV Testing Day is "HIV Testing is Self-Care." Please take this opportunity to improve your self-care by joining Northwest Health Services in observing this very important day!
If you have questions regarding this screening event or if you interested in free HIV screening, but are unable to attend our event on the 27th, please contact Northwest Health Services' Janet Miller, HIV Prevention Specialist @ 816-901-1034.
Thank you for reading this Blog—hope to see you on the 27th .