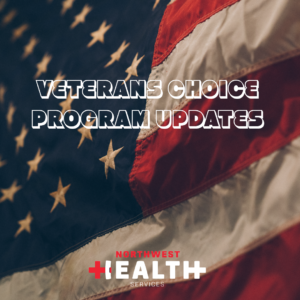 The Department of Veterans Affairs (VA) announced changes to community and urgent care access standards that take effect in June. These changes directly impact our community and Northwest Health Services and give Veterans a greater choice in receiving care.
What is an access standard? Access standards define if a Veteran would be able to choose between eligible community providers (like Northwest Health Services) and care at a VA medical facility. The proposed access standards are based on average drive time and appointment wait times.
One of the main struggles of the Veteran care programs were the long wait times with Veterans sometimes waiting months until they could be seen by a doctor. Removing the obstacles and burdens like wait times and drive times by using a community provider is a step in the right direction. The upcoming changes to the program are listed below:
For primary care and mental health, VA is proposing a 30-minute average drive time standard.
For specialty care, VA is proposing a 60-minute average drive time standard.
VA is proposing appointment wait-time standards of 20 days for primary care and mental health, and 28 days for specialty care from the date of request with certain exceptions.
Eligible Veterans who don't meet those access standards can choose between a VA Medical Facility and a community provider like Northwest Health Services who is partnered with the VA Choice Program.
Former VA secretaries from both President Bush and Obama administrations backed the new standards stating the changes "will place Veterans at the center of their healthcare decisions."
As a partnering organization with the program Northwest Health is here to help. Although the new program standards won't go into effect until June, Veterans can still take advantage of the program under the current access standards and use Northwest Health if any of the following apply:
VA can't provide the services the Veteran needs
Veteran can't get an appointment at the nearest VA facility within 30 days
Veteran lives more than 40 miles (driving distance) from the nearest VA medical facility
Veteran has to travel by air, boat or ferry to get to the VA medical facility
Veteran faces excessive burden in traveling to the nearest VA medical facility
In order to see a Northwest Health provider Veterans must receive prior authorization from VA to receive their care from us. Veterans must be enrolled in VA healthcare benefits and be unable to meet the above requirements. Veteran can also check their eligibility at the VA website. If you or a Veteran you know needs to contact the Choice Program you can reach the program support line at (866) 606-8198.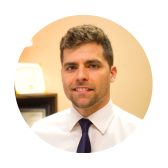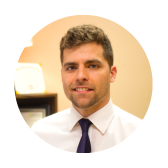 Cameron Corbet is the Marketing & Communications Manager at NHS who works with health care professionals to provide important, relevant information to the community.