M.A.T. Program
The medication-assisted treatment program treats opioid use disorder and works towards sustained recovery.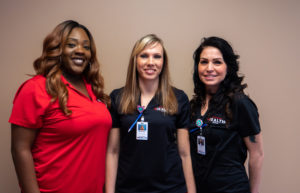 HOW DOES IT WORK?
The MAT Program offers two different medications to treat opioid dependence – Suboxone or Vivitrol. After becoming stabilized on the medication, a therapy component is introduced to the treatment plan.
For more information, call (816) 901-1072.
Meet our team! Pictured left to right: Ta'Lesha Holmes, Teresa Limle, Nicole Pierce